Experience a feeling of welcome unlike any other at Kalya Hotel Yogyakarta. Strategically located at Kotagede district in Yogyakarta that is well-known as the center of Yogyakarta's fine silver craft and close to the key tourist sites such as Malioboro, Kraton and Taman Sari.
Each of the 112 guest rooms with cozy and friendly service exudes a sense of tranquility and room with panoramic views of the Merapi Volcano and city view of Kotagede. Our 365 square meters of flexible indoors space including our 1 ballroom and 3 meeting rooms, accommodating from 10 to 150 guests.
We provided a comfortable canting restaurant with a view of the city of Yogyakarta.

We are equipped with restaurant facilities that support your comfort at lunch and breakfast.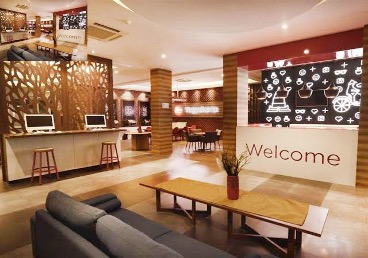 We provide a variety of foods and drinks menu options to accompany your lunch and breakfast.

"I had a very interesting experience at Kalya Hotel Yogyakarta"
"Luxury and nice hotel, full breakfast, okay service, the view is good"
"Good service for the room and food service for breakfast"
"Kalya Hotel is part of our unforgettable memories."
Kalya Hotel Yogyakarta , located in Yogyakarta City, offers spacious and modern rooms with free WiFi access. The hotel has outdoor pool facilities and a restaurant with views of yogyakarta city.

Jl. Gedongkuning No.118, Rejowinangun, Kec. Kotagede, Kota Yogyakarta, Daerah Istimewa Yogyakarta 55171